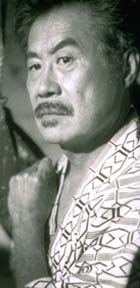 Bio
AS OF LATE
Sab will soon finish filming a guest-starring role in the pilot episode of "Samurai Girl" for ABC. He recently completed filming the feature "Old Dogs" with Robin Williams and John Travolta. He also wrapped "Ben 10", a made-for TV movie, and guest starred in an episode of 2 ½ Men." He then appeared onstage at the Electric Lodge in the world premier of Ken Narasaki's "Innocent When You Dream", directed by Alberto Isaac.
The Los Angeles Times: "It's all about Shimono (s) beautifully shaded performance…in its physical eloquence and empathy."
LA Weekly (Pick Of The Week):"It's an eloquent, moving and lingering glance at an intersection of history and memory….with splendid performances by Shimono, Omi, and Kuroda."
Sab also appeared at the American Conservatory Theater in the highly acclaimed world premier of Philip Kan Gotanda's "After The War."
The San Francisco Chronicle: "Extraordinary …fully embodied by superb actors."
His previous appearance at A.C.T. in "Happy End" also garnered praise from the S.F. Chronicle: "The energy really seems to build with Shimono's comically lethal song-and-dance "Song of the Big Shot."
BIOGRAPHY
In an effort to raise his grade point average at UC-Berkeley, Sab enrolled in an acting class taught by Henrietta Harris. To his surprise, he was immediately swept away by the magic and power of the theater, and he knew he'd found his true calling. Infused with passion and fearless determination, he moved to NYC where he studied acting for two years with Stella Adler as well as being privately coached in vocal technique by the supremely talented, (and patient), Steve Ross.
One of Sab's early professional theater roles earned him his Equity card for playing Wang Ta in a summer stock production of "Flower Drum Song".
Sab's first Broadway role was Ito, in "Mame", with Angela Lansbury. He continued working in many Off-Broadway projects, including multiple productions with La Mama etc, before returning to Broadway as Manjiro in original cast of Stephen Sondheim's "Pacific Overtures." He also performed in the 2005 Broadway revival of "Pacific Overtures", playing the role of Lord Abe. Since his arrival in L.A., he has appeared in dozens of films including "Gung Ho", "The Wash", "Presumed Innocent", "Come See The Paradise", "Waterworld", "The Big Hit", "Paradise Road", "The Shadow", "Suture", "Southland Tales", and the feature film "Sensei", which was written, produced and directed by Diana Lee Inosanto.
In 2006, Sab appeared in The American Conservatory Theater production of Kurt Weill and Bertolt Brecht's "Happy End". He returned to A.C.T. in the 2007 world premiere of "After The War", by Philip Kan Gotanda. Sab's work with writer/director Philip Kan Gotanda spans more than 25 years, and includes "Avocado Kid", "Fish Head Soup", and "Sisters Matsumoto" at East West Players in Los Angeles, the world premiere of "The Wind Cries Mary" at San Jose Repertory Theater, with a second production at East West Players, "Manzanar", and the feature film, "Life Tastes Good". Sab appeared in Mr. Gotanda's Off-Broadway productions of "Yankee Dawg You Die", "The Ballad of Yachio" and "The Wash" for which Sab garnered the 1990 & 1991 New York Drama Desk nomination for Outstanding Actor. He also appeared in the first Off-Broadway production written by an Asian-American playwright: Frank Chin's "Chicken Coop Chinaman" at American Place Theater. He co-starred in the feature film, "Robot Stories", written and directed by Greg Pak, which garnered global praise. TV credits include "2 ½ Men", "Friends", "Seinfeld", "M.A.S.H.", and many more. He voiced the role of "Uncle" for five seasons on Fox's "Jackie Chan Adventures", and is the voice of "Chow Lo" in Disney's "Mulan". He continues to remain very active in local, regional, Broadway, and Off- Broadway theater. He has been honored on numerous occasions with awards from LA Weekly and Dramalogue for outstanding performances, and received a 1975 Clio award for Best Actor. Sab is a proud member of the Academy of Motion Pictures.